Launch Preschool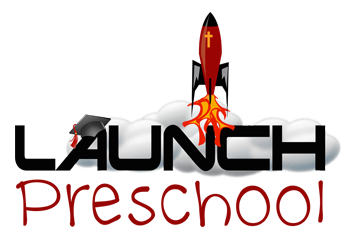 Classes offered:
3-year-olds - Tuesday, Thursday 9 a.m -11:30 a.m.
$150 per month
4&5-year-olds - Monday, Wednesday, Friday 9 a.m -11:30 a.m.
$180 per month
Kindergarten Readiness - Mon. through Fri. 9 a.m -11:30 a.m.
$275/month
Purpose: To provide families from our community with a quality preschool education that is exciting and permeated with God's Word.
Vision: To have a preschool where children ages 3-5 learn to see the love of Christ demonstrated by staff while learning the basic math, phonics, and reading skills that will prepare them for further education whether that be public, private, or at home. We want their "first" school experience to give them the desire to learn more!
Our Staff
Jess Bogart
Launch Preschool Director | Teacher
E-Mail:

Bachelor of Science, Elementary Education
Teaching experience since 2007
"As a teacher, a volunteer youth mentor, Sunday school teacher, and a private tutor, I have had experience working in suburban and urban settings with students in preschool, kindergarten, fifth, middle, Jr. High, and Sr. High. I view teaching as a ministry opportunity to share the gospel, impart the love of God into the hearts of little ones, and encourage families by providing support."
---
Susan Yeagle
Kindergarten Readiness Aide
E-Mail:

"As a preschool aide for 11 years and serving in Kids Ministry for many more, I enjoy seeing children grow in their love for the Lord as well as academically. My favorite activities are the sciences, insects, and all things squishy. It is my goal to make their first school experience one that is fun and ignites a desire to learn. "
---
Brittany May
3 Year Old Class Teacher
E-Mail:

I have served in Calvary's Kids Ministry for over 15 years and led a group of girls in the student ministry for five years. I love watching students to grow and learn, not only academically, but in their faith and the way they treat people and the world around them.
---
Liz Barto
4&5 Year Old Class teacher/ 3 Year Old Class aide
E-Mail:

My passion for teaching preschool comes from my years at LBC, volunteering in children and student ministries, teaching at another school, and being a mother to my 3 children. Instilling a foundation of a love of learning, self confidence, a love for God and partnering with parents to set their children up for educational success, is my heart for why I teach.
---
Melinda Ogbin
4&5 Year Old Class Aide
E-Mail:

"I have served in youth ministry for over 19 years. Its been wonderful to have a small impact on the students journey, not only in their school studies, but also in their relationship with Jesus and others."
---
Weather-related School Closings
We will follow the guidelines of the Wilson School District for any school closing due to weather. If the Wilson School District is closed due to weather, Launch Preschool is also closed. On mornings with two-hour delays, please follow this modified schedule accordingly:
Morning Class: 10:30am - 12:30pm
Please listen to the radio, TV, or website for the Wilson School District's information.
---
Contact Launch Preschool
Fill out the form below or give us a call at 610-678-5166