Student Ministry
Illuminate Student Ministry will be LIVE on social media Monday-Friday until we are through this season of social distancing. While we cannot meet together physically, our Illuminate Student Ministry leaders are PUMPED about connecting with your teen online and through social media.
Wednesday - Illuminate LIVE at 6:30 p.m.
This Is Our Community: a time of Q&A, spiritual encouragement, and fun with one of our student ministry leaders.
Illuminate LIVE: will resemble Illuminate Wednesday night as best and as close to the real thing as possible.
Your teen can watch us LIVE on two platforms:
Follow us on Instagram @illuminateyg
Subscribe to the Illuminate Student Ministry on YouTube
When We Meet
Sunday Morning: 9:47 a.m.
All teens in grades 7-12 are welcome to attend our Sunday school class, where we study books of the Bible and talk about issues and questions that we face daily.
Wednesdays: 6:45 - 8:45 p.m.
God's Word, food, video games, and fresh music are key parts of our growing community on Wednesday nights.
Click here to view our current calendar of events...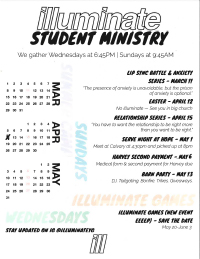 Special Events
June - Jr. High Harvey Cedars
July - Sr. High Harvey Cedars
Youth Haiti Missions
Contact:
Pastor Greg Carder
610-678-5166