Christmas
Use the links below to learn about the many ministries that go on here at Calvary over the Christmas season. Christmas is a very busy time, but we would encourage each family get involved in one Christmas outreach.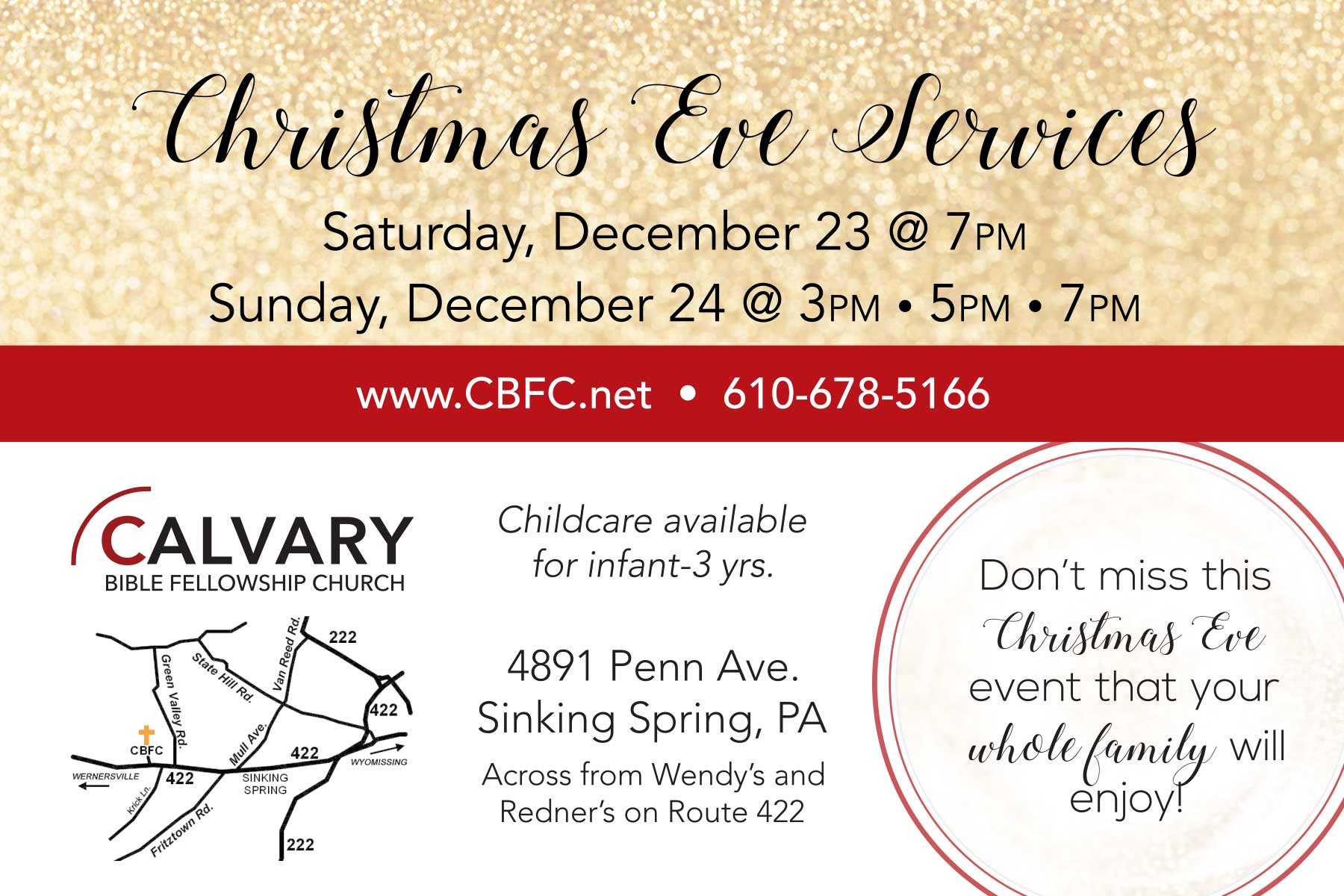 Sinking Spring Campus - Childcare available for infant - 3 yrs.
Saturday, December 23 @ 7p.m.
Sunday, December 24 @ 3 p.m. • 5 p.m. • 7 p.m.
There will be no Sunday morning services on Christmas Eve at the Sinking Spring or Spanish Campuses.
Wernersville Campus
161 West Penn Ave, Wernersville
Sunday, December 24 @ 9 a.m. Liturgical Service
Sunday, December 24 @ 6 p.m. Christmas Eve Service
'Twas the Lights Before Christmas
Our annual Christmas lights show, featuring a Star Wars theme, will run from December 1 - 22 (with a special encore the week after Christmas) from 5 - 10 p.m. Enjoy hot chocolate, cookies, and a craft for kids in The Barn, open for hospitality on event weekends from 6-9 p.m.
Christmas Bazaar
Angel Tree
MCCPC Client Christmas
Christmas Bazaar
Thank you everyone! The 8th Annual Christmas Bazaar had over 85 attendees and 18 set up / sales people. We raised $825 for the Mercy Community Crisis Pregnancy Center and the YMCA children.
Saturday, December 2 from 9 am-noon
Each year we collectnew or like-new household items to be sold at the Bazaar. Shoppers can buy tickets for $1 each. Most items will "cost" one ticket. This is a great opportunity for families in our area to get Christmas gifts or for children to buy gifts for their families. Many volunteers are needed to help this event run smoothly. Help for all or some of the time. Proceeds benefit the YMCA Children & Youth Program and Mercy CCPC.
You may drop off your items on Sunday, Nov. 26 through Wednesday, Nov. 29 ONLY. (No VHS tapes, Reader's Digest books, Encyclopedias, Furniture, or Clothing)
Angel Tree
Imagine being a child, spending Christmas without your mom or dad because they can't come home. Angel Tree is a ministry for the children of prisoners who enroll their kids in the program to receive a Christmas gift "from them," purchased by you.
To participate choose a tag off the "Angel Tree" from the lobby November 12 and 19. The tag lists gift requests from a child. Simply buy and wrap the gifts and return them to the church by November 26.
There will be a party on December 9 from 1 p.m-4 p.m. at Hope Rescue Mission, where the children will receive their gifts and hear the gospel.
You can help in any of the following ways:
Angel registration (record info as people pick up tags) Sunday mornings in Nov.
Sorting gifts and deliver gifts
Provide baked goods for the party
Party set-up/service/cleanup
Client Christmas Event
Thank you to everyone who donated gifts! The deadline has now passed.
---
The Christmas season can be a challenging time for single moms. Each year Mercy CCPC holds an annual Client Christmas Event in which clients participate in a life skills class, select and wrap one gift for each of their children, and are thereby able to present the gift to their child/children on Christmas morning.
Each year they see 300+ children who will receive gifts on Christmas morning as a direct result of Mercy's unique program.
You are invited to join with us in ministry during this special time of year.
Consider donating:
Unwrapped new toys - ages birth to 8 years

Tissue paper to use with gift bags
Donations at Calvary need to be received by Sunday, November 5.
For additional information, visit mercypregnancycenter.org.
Please note: all toys must meet current safety standards, NO toy guns, NO small parts, and NO toys that promote violence. Please note: If you are unavailable to shop, designated gifts of money may be donated to purchase Christmas toys.
GIFT SUGGESTIONS:
Ages: 0 – 12 mnts. NO STUFFED ANIMALS
Fischer Price Toys

Baby Activity
Ages: 1 – 3 years
Dolls (Barbie)

Lego Sets

Duplex Building Sets

Trucks

Games - NO CHUTES & LADDERS OR CANDY LAND

Chunky Puzzles (Big Pieces)
Ages: 4 – 6 years
Lego Sets

Arts & Crafts Items

Tonka Trucks

Match Box Cars

Games - NO CHUTES & LADDERSOR CANDY LAND
Ages: 7 – 8 years
Hair Supplies

Arts & Crafts Items

Games

Book Bags (Boy & Girl)

Match Box Cars

Lego Sets